My first gay experiences: Sometimes things "turn out" differently...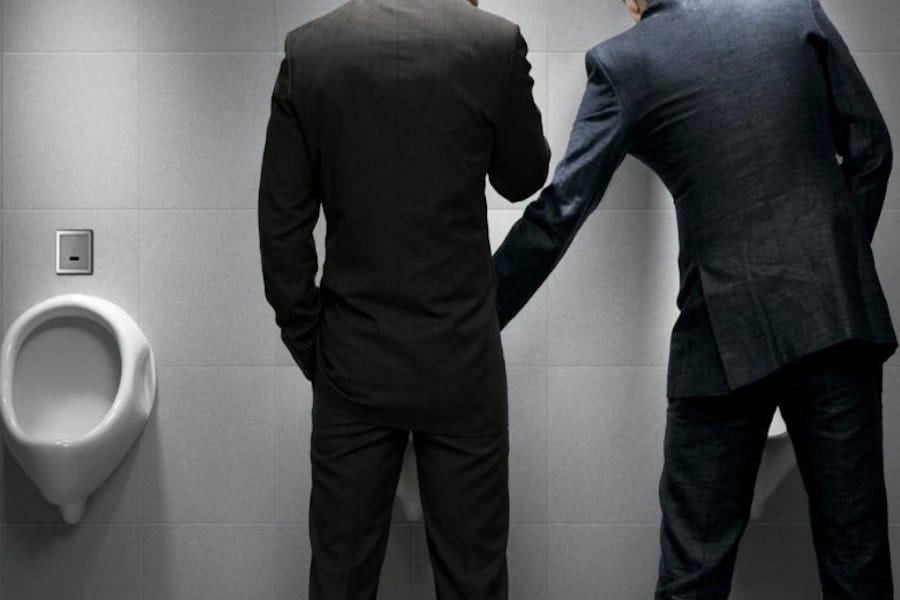 My name is Gregor and I am 35 years old. I actually always thought I was 100% heterosexual,... until a club visit got a little out of hand. One thing in advance: I have always lived out my dominant streak during sex. I just love to humiliate my sex partners / girlfriends and if desired, to get harder. In short: Everything is allowed, but nothing must.
Back to the story: one Saturday my buddies and I decided to visit a club. Actually, a classic electro evening is held here on the second Saturday of the month. But at the club a rainbow flag was already waiting for us and only men were queuing.
Actually, I had expected that we would turn around and go back home. But one of my buddies came up with the idea that we - "if we're already there" - could just go in. After the hilarious pre-glow, this seemed like a good and fun idea for us. That the visit would influence my further sex life in retrospect, I have not yet guessed at that time.
At the entrance, the Wegbier was empty and we went into the club in a correspondingly good mood. We headed for the bar and looked around a bit. The music was as usual. There was just no female audience. Insertion: There I thought naively still that I would probably not come to the course this evening.
At some point the music pulled us onto the dance floor and it only took three songs for a slim guy to approach me. I looked down (there is a noticeable difference between 1.90 m and 1.75 m) and tried to reject him in a friendly way. But the guy did not want to let go. Maybe he already knew that this evening would end well for him or us?
The first body contact
After he danced at me again and again, always trying to rub his butt against me, it became too much for me at some point and I pushed him away. I looked annoyed at my buddies and went to the toilet.
As I was standing there taking a piss, the door opened. It was the guy from the dance floor. I went to the sink. Slowly the guy was really annoying. As I was washing my hands, I saw him in the mirror looking me up and down. At one point he said, "You look like you could give it to me really hard."
I looked at him confused and before I could grasp clear thoughts, he was already behind me and wanted me to the laundry. Startled, I pushed him away and emphasized that I was straight, but even at that moment I had a funny tingling in my stomach. He started another approach and this time he pressed his ass against my loins. I have to admit that I thought it was pretty cool how the guy was sort of offering himself to me. I noticed that it took me a few seconds to push him away. But these seconds were enough to give me a hard pipe in my pants.
He turned around and proudly looked at his work: "This is exactly what I'm looking for. Come on, I want to feel you violently inside me." As he said this, he came closer and I felt his hand on my boner. He kissed me just over the shirt on my torso. I let the kisses happen at first, because I have to admit, the tingling and his hand felt damn good. But then the door opened. To this day, I'm glad it wasn't one of my buddies.
Startled and caught, I pushed him away. He stepped closer again and whispered in my ear, "I only live 10 minutes away." Still with a huge boner in our pants, we inconspicuously left the club and went to his place.
My preference to pick up men was awakened
The ten minutes it took until we reached his apartment, he used to make me really hot. He knew how to satisfy my dominant streak. With sentences like: "I'm sure someone like you can get it a bitch like me really horny and hard." or: "I'm a really bad boy who loves to be punished when he was naughty." he excited me more and more.
At these words I felt that my pants hardly offered more space and the first drops came out of my penis. I really could not wait to take this little bitch.
Arrived at him it did not take long until he stripped down to his underpants in front of me and stretched his horny ass towards me. The desire let me grab his pelvis and I pressed my hard latte against his ass. I tore off his underpants and pressed my cock again against his - this time bare - ass.
He straightened up and turned around. He lifted my shirt and spoiled my upper body with his lips. Arrived at my nipples, he licked them with his tongue. He opened my pants and reached into my underpants. There he began to jerk my cock until it became hard as a rock again.
Then he went on his knees to give me a horny blowjob. No question about it: I really had a greedy bitch in front of me, who took my complete cock in his mouth. I grabbed his head and began to fuck him. In the meantime he gagged, which only made me thrust harder.
He broke away, which I allowed this time, and he put a condom on me. He went into the bedroom and called out to me, "Come and fuck me already." I followed this call without worrying about my supposed heterosexuality this time. He lay down with his back on the bed and spread his legs for me. He took lubricant and jerked me again beautiful my plump thing.
When I penetrated his asshole, I realized that I hadn't had such a horny feeling in a long time. He moaned while I put my bulging part inside him. I started fucking him slowly, but deeply. After only a few minutes, I felt myself about to come. However, I could not and would not stop. He moaned and when he shouted, "Fuck me the same way, Master!" it was all over me and I squirted.
This experience was only the beginning. We fucked horny two or three times and I could live out my dominant streak. Since then, I only visit gay bars and am also thinking about going to a gay cruising spot next.