The Eroticworld gay cinema in Rendsburg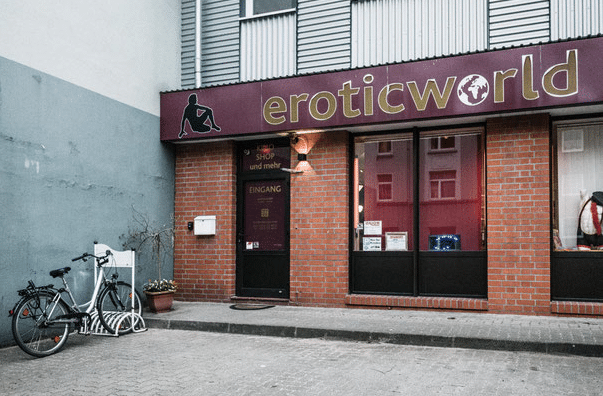 Eroticworld Rendsburg is one of the oldest sex cinemas in Schleswig-Holstein and offers a cozy atmosphere. It has several single rooms with a cozy seating. In addition, there are also common rooms in which lying possibilities are available.
In all rooms in the you can freely choose the program.
In the popular gay cinema Eroticworld Rendsburg the programs are changed regularly. In addition, there is a very special room with an Andreas cross for hot romping. Cleanliness and hygiene are very important there. Please share your experience with Eroticworld Rendsburg. On Planet Randy you will find many like-minded people who can certainly benefit from it.
Opening hours:
| | |
| --- | --- |
| Monday | 10:00 - 22:00 |
| Tuesday | 10:00 - 22:00 |
| Wednesday | 10:00 - 00:00 |
| Thursday | 10:00 - 00:00 |
| Friday | 10:00 - 00:00 |
| Saturday | 10:00 - 00:00 |
| Sunday | 12:00 - 21:00 |
Maybe you could also like the World of Sex in Kiel?

Reviews & Opinions
Opening Erotic World December 201

Passive male submissive seeks .....

Wanted to go today at noon

The cinema was never a pure gay cinema. I had several nice encounters with couples there. After the reopening, I would very much like to see it again soon. The cleanliness has been ok so far, but not outstanding. If there is now a separate smoking room, I find that lonely top!
Who absolutely has to push a stem between the lips, should do it there, provided it is not (m)a meaty, thick stem.

Hello, I found it very dark there.
There was no action there.
There were some men of different ages there though.
They walked around with "closed" faces.
faces around.
I would have so liked to suck several cocks empty and also to be fucked, with one or two cocks in my mouth.
Then someone was sitting there on the sofa playing around with his hard-on. I asked him if I could sit with him.
I juiced him orally.
What is the best way to make contact there?
contact there?